Professional Lurker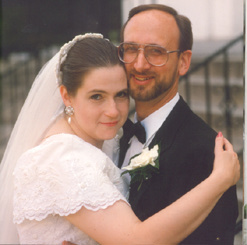 PL with her personal Angel
RL Name: Christina
Location: St. Louis, Mo.
Both Poster or Lurker, Mostly Coffee Club, and the rest of the work day. Occasionally nights and weekends.
email addy: burchc@slucare1.sluh.edu
Bronze Clubs: Certified LURKer, Angelus Groupie #45, PBA #82, BRLQ #2, XDC !!, Buffyatrics Aspirant, SDA - with Absinthe the Forgetful Dingo, UBC #137, WPWP #251, Boogedy Boogedy Clan, I Love Ty Club member, JP Gang member #48, Proud to be an Auntlet in the Famlet, RAK-Pack Charter Member #4!
Other Bronze related titles/relationships: 56% nerd?; Rakshasa is my Ahab, my Snoopy, my Montgomery, my Wile E. Coyote... ; Devoted to Ty King, sincerely...; Keeper of Joyce Summers' Fashionable but Homey Decorating Style...; Keeper of Angelus' Playing with his Food...; Keeper of Willow's Knack for the Right Scientific Fact at the Right Time... Bronze Function: irritant, probably.
3 Favourite Buffy eppys:
1) Passion
2) I Only Have Eyes For You
3) B1 & B2 (is that B3?)
Buffy character you drool over: Aw, heck, Angel.
Buffy character you like best for their soul: Willow!
Favourite Buffy Quote: "I think I speak for everyone here when I say 'Huh'?"
Favourite Buffy Baddie: Spike
Favourite Spell/possession/mutation from Buffy: Angel & Buffy as the lovers in IOHEFY.
Stuff about you: My age is posted on ValMichael's Age Game site (that's about as far as I'm willing to go by way of admission). I'm married to my own personal Angel. He's my best friend and my dream lover. I have two stepkids, ages 23 & 21, and a 2-year-old son (oops), who is the light of my life. We have two ridiculous dogs, Becca and Jaunie, and there's a ghost lives on the third floor of our monster Victorian house that we are (still) renovating. Occupation? Something boringly dignified, stuffy, and high-profile in higher education. Perhaps the best part of my job is the teaching - and I really feel lucky to spend as much time as I do with younger people. They keep me on my toes. Favorite shows? Buffy! Other favorite shows: Highlander, The Magnificent Seven, the long defunct series (darn it) Beauty and the Beast, and just about anything with "Trek" in the title (:-)). Favorite movies: oddly enough, just about any movie that goes "Boom!" - and after that, rather predictably, chick flicks. I'm a sucker for a good romance. I read a lot (don't ask for favorite books: it's impossible), and write screenplays for my own amusement. I love to sing, and I really wish there were time in my life for me to join a chorus again. I'm passionate about anything to do with food: growing it, cooking it, especially eating it. I have a cookbook collection that is rapidly filling an entire bookcase. I enjoy my rickety old house, and I love my garden (but I hate to garden). As a person in serious need of escapist diversion, I'm happy to say that the Bronze has provided delight, diversion aplenty, friendship and intellectual stimulation that I've very much enjoyed. Thanks, all.