Chrissy

pe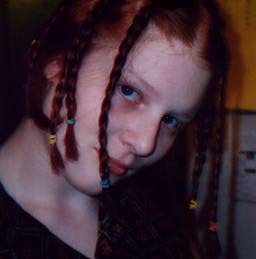 nding)
RL Name: Chrissy Aitchison (creative nickname, eh?)
Location:Ontario
Poster, Workdays EST & a bit on evenings and weekends (during the summer, during the school year, when ever the artsy whup turns it's back for an instant)
email addy: caitchison@mail.com
Homepage URL(s):
Chrissy Aitchison's Homepage,
Bronze clubs: WPWP #313 ('cause Aly's just such a sweetie), XDC #243 (If you don't dance then you're no friend of mine!), Proud member #50 of Buffy, eh? ('cause Canada rocks!), UB-SbAM (it just feels *good* to be bad), JP Gang #43 ('cause Jeff rather rocks), Faith/Buffy in '99 #44 (Two slayers, one love!)
Other Bronze related titles/relationships: Black Sheep of the BWGDC, First mate of the Sameless Hussy Boat, Famlet member- Asanti's kidlet, -mere- is my kickboxing (and evilty) guru (and I'm her *willing* Scott Evil), Night Owl is my Uber Bud, SarahNicole is my Psychic Wonder Twin.
Bronze Function:Birth Mother of the Who's Who and What's What of the Bronze Page (back when it was just a little Who's Who...)
Favourite Buffy eppys:
Season One:
1) Prophecy Girl
2) The Pack
3) The Witch
Season Two:
1) When She Was Bad
2) BBB/Halloween
3) Becoming2
Season Three:
1) Lover's Walk
2) Band Candy
3) Anne/The Wish
Season Four: Fear Itself and Hush

Buffy character you drool over: Spike, then Xander and Doyle tie for second. Then Oz and Giles. Yup, that's right, Angel's a distant forth, right after Oz and Giles.
Buffy character you like best for their soul: Willow, and Oz as a close second. And Spike, 'cause I still suspect he has one, and the strength of his love for Dru is pretty damn admirable...
Favourite Buffy quote:Any exchange between Joyce, and Spike,
"Oh boy, it's a big rock. I can't wait to tell my friends. They don't have a rock this big." -- Spike, Becoming
"Cavalry's here. Cavalry's a scared guy with a rock, but it's here." -- Xander, Becoming 2
"To read makes our speaking English good." -- Xander
"It's OK. Kendra killed the bad lamp." -- Buffy, What's My Line Pt. 2.
"Like my mask? Isn't it pretty? It raises the dead!" -- Giles, DMP
Favourite Buffy Baddie:Spike 'cause he's the sexiest, but The Gentlemen cause they were ubercreepy.
Favourite Spell/possession/mutation from Buffy: Xander as Hyena Boy- can I just take this opportunity to say "yummy"? Though Spike as an alternatively lovesick and pathetic or dangerous and angry drunk was pretty damn good too - that scene with Joyce.. hee hee....
Stuff about you: OK, all about me. I love this part. I'm 22 years old (born October 2, 1977). I just completed my BA in the Spring of 2000 with a major in Fine Art and a minor in English at the University of Guelph (in Ontario, Canada). I also like writing run-on sentences *g*. My media are photography (my passion) and video (a close second), film when I can afford it, and collage/mixed media. I also write poetry, short stories, fanfic and analytical stuff. I used to kickbox and am now focusing on Jiu Jitsu. Right now I work at the municipal tax office but my plan is to continue with my photography professionally and hopefully eke out a gallery art career as well. When I'm not doing productive things, I watch way too much TV. Aside from Buffy and Angel I watch M*A*S*H, Northern Exposure, My So-Called Life, Kids in the Hall, General Hospital, That 70's Show, and various Star Treks I also enjoy going dancing with my friends (to Brit pop, Retro, some "alternative" stuff, Trip Hop, Jungle, Trance, Funk, Ska, Swing, Electronica ... just about everthing except for country and dance-y dance stuff) a few times a week, hanging out at the pub, playing around on the internet, going to movies, getting drunk with the buds and ordering pizza in the middle of the night (I am denying my graduation by continuing to live like a student).... and of course, sleeping in (I'm a night person, bigtime. I consider mornings obscene and tolerate them only for income and academic purposes).